With Moody's death dawning on Harry, he sets his mind to go looking for the Horcurxes without wasting any minute for Voldemort is surely going to get stronger. He goes into a conversation with Ron and Hermione in which they insist on accompanying him through his journey. H
e feels that they don't understand the dangerous choice they're making but Ron shows him the measures he took. He leads him upto the attic where a ghoul is residing there in pajamas. Ron says that Fred & George have transformed it so that when they're off to their hunt he'll be in Ron's bed and if anyone comes looking for him, they'll be afraid to get near as the Spattergroit's really contagious. On the other hand, Hermione have used the Obliviate spell (Memory Charm) on her parents and now they have no idea of her existence and they're off on a holiday in Australia. If this shows anything, it only tells Harry how keen his friends are to help him find these Horcruxes and destroy them. Meanwhile, Harry's been staying at the Burrow in preparation of Bill & Fleur's wedding. Mrs. Weasley knows so little of their plan of not attending Hogwarts next year and planning to do something else, hence she tries her best to give them separate chores 'in the hopes of delaying their departure', as Ginny said.
Then comes Harry's birthday which Mrs. Weasely have taken the trouble to celebrate given that the next day happens to be the day of the wedding. Harry's cake flies to him in the shape of a snitch and while they're at it, Mr. Weasley's patronus announces the arrival of Scrigmour, Minister of Magic. He asks to have a private talk with Harry, Ron and Hermione and that's when they first hear of Albus Dumbledore's will. He left Ron a Deluminator, Hermione's a book of The Tales of Beedle The Bard. Harry gets his snitch, the one he caught at his first Quidditch match and the Sword of Godric Gryfindor which the Minister says it's gone missing. The fact that it had taken these possessions a month to be passed on after Dumbledore's death sparks the curiosity of the trio. Hermione asks the Minister if they've searched the objects, if they think Dumbledore might have passed Dark objects but Scrigmour replies by saying that they should all be working together. Harry though furiously states that he doesn't agree with his methods.
They gather around that night to discuss what Dumbledore left them. What could a Deluminator be used for other than switching and bringing back the lights? And how could this help them? What about the Tales of Beedle The Bard? Most importantly, how can Dumbledore pass the snitch to Harry when it wont even open?
We're then brought to the wedding where the tents have been set up and the Weasley's relatives fill in the place. Fleur enters and silence falls over the crowd. It was so magical that I liked it when Rowling described it: "And once Fleur reached him, Bill did not look as though he had ever met Fenrir Greyback".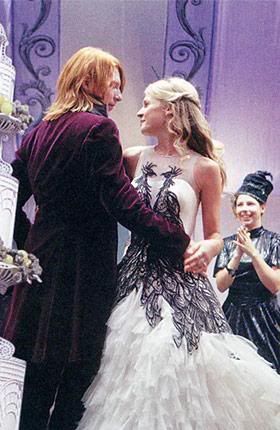 However, a curious Auntie Muriel stirs up a burning feeling in Harry while he is chatting with Doge, Dumbledore's old friend. She talks of her admiration towards Rita Skeeter and that she can't wait to read what she have dug of Albus' past. Harry finds himself half-believing what she's saying: that Dumbledore did not care about his Squib of a sister and preferred to show his talents and skills at Hogwarts, that his mother locked up Ariana for the fear of being a disgrace to the family, which, alternatively lead to her death. On the day of her funeral, Aberforth hit Dumbledore and broke his nose..
With all these new information to digest, let alone grasp the truth or the false accusations, a Patronus announces the death of the Minister and the fall of Ministry of Magic. Immediately, Harry and Ron Disapparate with the help of Hermione to Tottenham Court Road. Then they go to Grimmauld Place, Sirius' house. That day, Harry's scar hurts him. It blinds his eyes and as Rowling put it "the rage that didn't belong to him posses his soul"
Wandering around through the house early the next morning alone, Harry enters his Godfathers' room for the first time, it's plastered with large Gryffindor banners and the faded colours of scarlet and gold, "just to underline his difference from all the rest of the Slytherin family". He finds a letter and reads it. It is a letter his mother Lily had sent to Sirius on Harry's first birthday. There is also a picture attached to it: Harry zooming in and out of the picture on a tiny broom. You could see the rush of emotions going on inside of Harry after reading Lily's letter, it feels good knowing that his mother was talking about him. Him, Harry, her son..
Harry stops in his tracks the moment his eyes set on Regulus' Black bedroom door. He finally knows what R.A.B stands for. Regulus Arcturus Black so in the hopes of
finding the real locket, they search the room but only later do they realise that indeed there was a Locket two years back that Kreacher took away. Heading towards Kreacher's cupboard, Harry summons the house-elf and demands to know the full story. Kreacher explains: Voldemort wanted a house-elf and Regulus kindly volunteered to give him his. Voldemort and Kreacher went to a cave near a lake.. Harry remembers this so well for he had been there with Dumbledore. Kreacher recollects what's it like being in that dark cave with all the Inferi. He says that Voldemort made him drink the potion in the basin and hid the real locket inside, the real Hocrux. One day, Regulus commands Kreacher to show him the same place and he drank the potion and Kreacher replaced the lockets. Kreacher brought the locket home but couldn't destroy it. Mundungus Fletcher comes into Grimmauld place and steals it.
Now Harry orders Kreacher to go and find Fletcher. He, Ron and Hermione are determined to find all the Horcurxes and destroy them, can they, when the clues they have are so little?
________________________
1-Ron and Heromine planned for their journey with Harry thoroughly. When they told Harry this, it hit him how much they're sacrificing for him. How do you think he felt? And given the chance, would he have gone without them?

2-Dumbledore's Will baffled Harry, Ron and Heromine equally. How necessary do you think it is that he didn't give them any hints as to how they're useful? And concerning the sword, was Dumbledore justified in leaving it to Harry though it's as the Minister of Magic says, not Dumbledore's to give?

3- Why wouldn't Elphias Doge tell them the truth, do you think he had a good reason or he simply couldn't stand his closest friend being thus talked about?

4-How do you think the Death Eaters found out where our friends were in
the Muggles world?
Questions by Noor.